Welcome to Grand Cayman
Welcome to Dolphin Discovery Grand Cayman
Turtles, rays and Dolphins in the same paradise.

This program is a wonderful experience that children and grow-ups will enjoy. Watch a dolphin's smile while greets you or sings is a moment you will treasure forever.
The program starts when you dip into the water at a shallow platform, so know how to swim is not necessary. Sing, hug, and say 'hi' to your new best buddy and remember its name for your next visit to Dolphin Discovery Playa del Carmen!





Pay safely with SSL Technology

---
Behaviors:
Close Interaction
Buddy Pose
Hug
Handshake
---
Includes:
Swimmers Menu

Showers

Lockers
Dolphins are always excited to play with our visitors and to share their amazing skills and friendly company.
While standing on the underwater platform, our marine mammal specialist will teach you some interesting facts about dolphins, their diet, and reproductive and nursing programs we procure for our species, as well as special tips to protect our enviroment.
Read More
Enjoy the rest of the day in our two amazing pools, or relax by taking a sunbath. Savor a delicious buffet and get refreshing beverages from the national open bar in the company of your family and friends. Don't hesitate! If you want to have a blast with your loved ones, Dolphin Discovery-Isla Mujeres is the best option for you!
Come and have the experience of a lifetime!
---
Not Included:
Dock fee of $240MXN payable at check-in.

Children over 3.3 ft pay dock fee.

Ground transportation $16.00 USD.

Photos of your experience.

Other activities in Cancun or Isla Mujeres.
Get a special price when adding the Digital Photo Package to your cart.
Exclusive online offter
Add it to your cart when buying any of our Swim with Dolphin experiencies and take the memories to your home!
More about the Momories Package
If you are coming with minors:
Please don't miss out our Minor Policy for better recomendations.
More about our children's policy
---
Important:
Use of lifejackets is mandatory in all in-water program, no exceptions.

Use of cameras inside the water are prohibited.

All participans mus be at least 3.9 feets to perform the snorkel activities.

We only accept cash in Mexican Pesos currency, we are NOT accepting US dollars.

It's importnat to arrive 30 min. before your program, you'll receive a short briefing before your swim.
Special condition:
If you have any health or physical problem, please contact our call center before booking your reservation so we can provide you with full information about our services.
Pregnant Woman:
Women with less than 5 months of pregnancy can only participate in the Encounter program if accompanied by another adult and after signing a Responsibility Form.
You might also like:
Royal Swim
Full experience!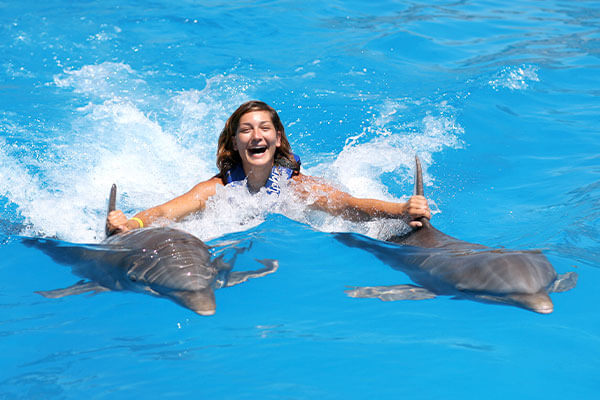 MORE ABOUT ROYAL SWIM PLUS
Swim Adventure
Full experience!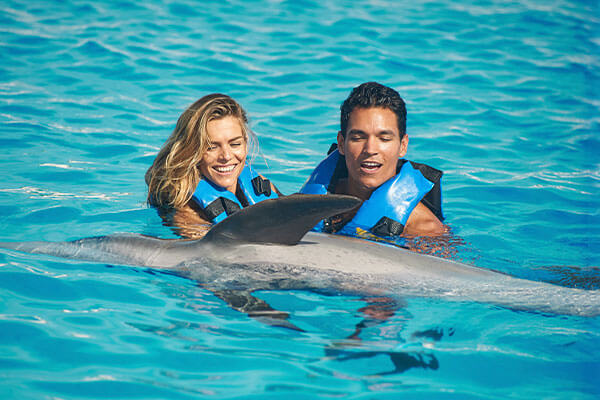 MORE ABOUT SWIM ADVENTURE PLUS